Sami Zayn Stripped of Intercontinental Championship
After weeks of being off television, the WWE has decided to strip Sami Zayn of the Intercontinental Championship because he's unable to defend it on Friday Night SmackDown.
The news came on Tuesday night's episode of WWE Backstage on FS1 where it was also announced that this week's Friday Night SmackDown will begin a tournament to crown a new Intercontinental Champion.
Following the decision and announcement that a new champion will be crowned, Zayn took to Twitter Wednesday saying "I disagree with this decision and no matter what anyone says, I am still undefeated and therefore still the Intercontinental Champion."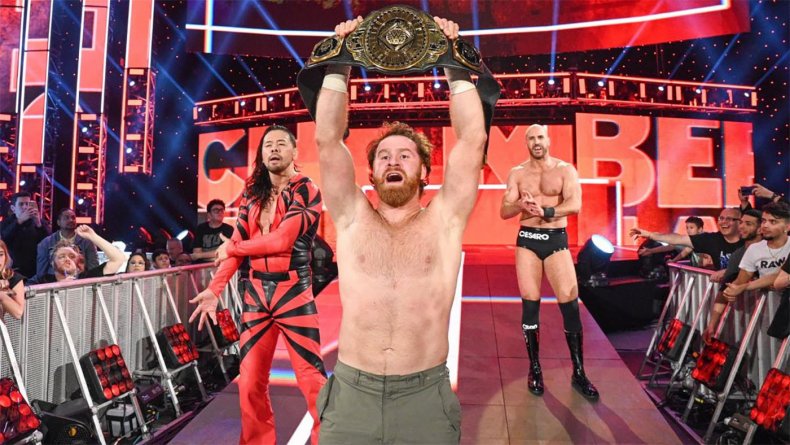 Zayn last appeared on WWE television on the first night of WrestleMania 36, when he retained the championship against Daniel Bryan on April 4.
He hasn't been on WWE television since.
Dave Meltzer of the Wrestling Observer reported why Zayn wasn't on recent episodes of SmackDown stating: "The reason Zayn wasn't on SmackDown this past week with Nakamura and Cesaro is that he made the choice not to come, which everyone was told they had that option to do. He was originally part of the show."
WWE has given the wrestlers the option to not work its weekly tapings during the COVID-19 pandemic. The promotion has continued to tape episodes of Monday Night RAW and Friday Night SmackDown from the WWE Performance Center in Orlando, and NXT in Full Sail University, since mid-March.
Prior to his absence, Zayn formed a stable that included Cesaro and Shinsuke Nakamura. Zayn won the Intercontinental Championship--his first since coming to RAW and SmackDown--in March at the Elimination Chamber pay-per-view. Sami would pin then champion Braun Strowman in a three-on-one handicap match alongside Cesaro and Nakamura.
Both Cesaro and Nakamura have aligned themselves with King Corbin in recent weeks due to the champion's absence.
Zayn is just one WWE Superstar who has chosen not to work RAW and SmackDown tapings. Roman Reigns pulled himself out of competition reportedly days before his WrestleMania 36 clash with Universal Champion, Goldberg.
He would publicly come out to confirm the reports and was replaced by Braun Strowman in that match. Strowman would defeat Goldberg and become the new Universal Champion.
Reigns has not been on WWE television since.
Zayn joined WWE through the NXT brand back in 2013. He would eventually win the NXT Championship before being out with an injury. Not long after his return, he would be moved to the main roster where he had opportunities at the Intercontinental Championship, but never won it until this year.
Who do you think should participate in the new tournament? Let us know in the comments section.
Sami Zayn Stripped of Intercontinental Championship | Sports