WWE Superstar Seth Rollins Shares Picture of Becky Lynch's Positive Pregnancy Test: 'December Can't Come Soon Enough'
WWE fans are still reeling from Becky Lynch's shock pregnancy announcement on Monday night's Raw.
The Irish wrestler revealed that she and fiance Seth Rollins are expecting their first child in an emotional speech where she handed the Raw women's championship to rival Asuka.
"You go and be a warrior, because I'm going to go be a mother," she said.
Now, Lynch's partner and fellow wrestler has shared the heartwarming moment he found out he was going to be a dad.
Posting a photo of Lynch holding a positive pregnancy to Instagram, the 33-year-old star wrote: "I took this a few moments after we got the best news of our lives and I don't think I could have captured anything more beautiful. I can't put into words how much it means to me."
Rollins thanked fans for their support, adding: "Thank you all so much for your support over the last couple of days. The outpouring of love really has lifted us even higher than we've already been."
Rollins also confirmed that the baby's due date is in December, writing: "December can't come soon enough!!"
Needless to say, fans are touched by Rollins sharing such an intimate moment with them.
One comment reads: "Congrats! It's the best feeling in the world."
While another well-wisher added: "Kids are awesome man, enjoy the ride!"
Another commented: "You're both gonna be amazing parents."
Lynch and Rollins confirmed they were an item in May 2019 after much speculation, before getting engaged three months later in August 2019.
Following her announcement, Lynch admitted that she has always wanted kids, telling People: "I've always, always wanted kids.
"I'm just so career-focused that it became one of those things that, when you're chasing a dream for so long, I always wondered, 'Am I going to get around to it? Is it going to happen for me?'"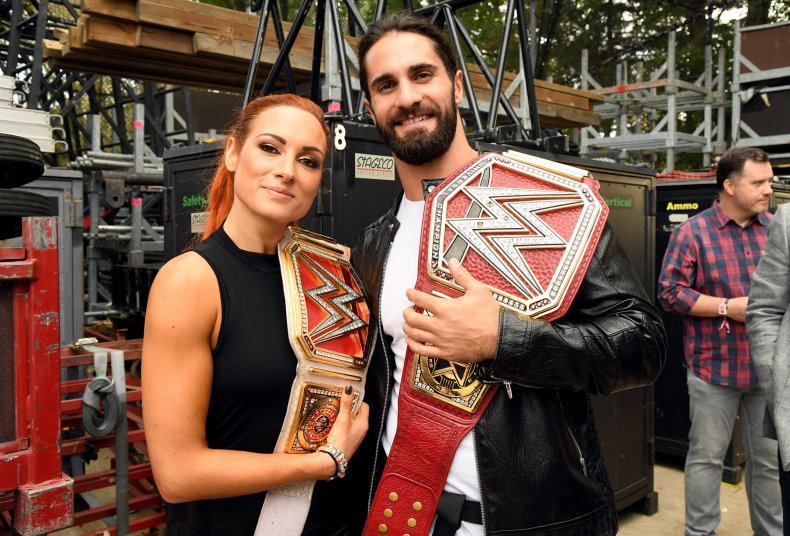 Lynch added: "When we got together, things started to look a lot clearer and I knew he was the person that I wanted to have kids with—that this was going to happen and it was just a matter of when."
And the pregnancy test pictured? That was one of many Lynch took after taking one wrong.
She said: "I took the first one wrong. Then I took a few more tests until I got a digital one that just said the word 'Pregnant.' I was with Seth at the time and he just threw his hands up in the air, all excited."
WWE Superstar Seth Rollins Shares Picture of Becky Lynch's Positive Pregnancy Test: 'December Can't Come Soon Enough' | Culture