Ryan Newman Back on Track to Race This Sunday, His First Since Fiery Crash at Daytona 500
Moments after Ryan Newman flipped his car and landed on his hood during the final lap of the Daytona 500 three months ago, NASCAR fans held their collective breaths. As that evening dragged into the night, and there had been no word on his condition from the fiery crash, worry turned into fearing for the worst.
The sigh of relief came hours later when NASCAR released a statement that Newman was ok. Newman, himself, does not remember the wreck, but he knows how lucky he is, and he's thankful for the outpouring of support from fans and fellow drivers.
"I feel like a complete walking miracle," Newman told reporters Thursday.
Newman will be back on the track for a 400-mile race this Sunday at Darlington Raceway in South Carolina. His comeback also marks the return of racing since it was indefinitely postponed beginning March 13 after the spread of COVID-19, also known as coronavirus.
The Daytona 500 was actually postponed a day this year because of rain, moving the race from Sunday to Monday. Newman took the lead on the final lap that Monday evening in Florida, but then he was bumped from behind and his car skidded to the right and flipped high into the air before landing upside down at the Daytona International Speedway.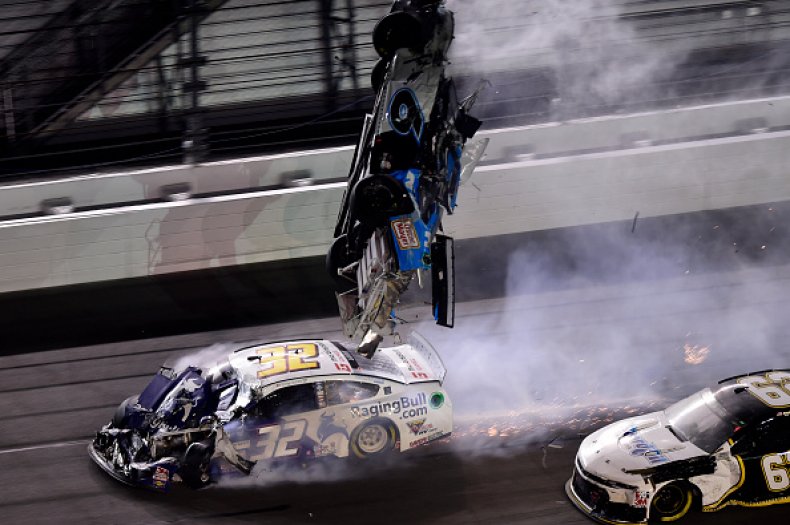 Newman's No. 6 Koch Industries Ford had sparks emerging from different directions while his car flipped and landed on Corey LaJoie's No. 32 car, and when Newman's car finally came to a stop, there were flames coming from the car and fuel was seen flowing towards the fire.
Newman was extracted from the car and taken to nearby Halifax Medical Center, where he was in serious condition with non-life-threatening injuries.
He was able to walk out of the hospital days later.
"As I watched in the next 24 hours of the crash, I had to make myself believe what I went through," he said. "That tells me God was involved. ... I was blessed in more ways than one."
"Everything aligned perfectly for me to be alive and here with you today," Newman said Thursday. "There were multiple miracles that aligned for me to walk out days later with my arms around my daughters."
The last NASCAR Cup Series race was March 8 in Phoenix for the circuit's fourth race of the 2020 season. Since then, seven races have been postponed. Action returns to Darlington on Sunday, but with no fans in the stands.
NASCAR has two Cup Series races scheduled for Darlington (May 17 and 20) and two for Charlotte (May 24 and 27).
This Sunday's race will start at 3:30 p.m. ET, and will be televised live on Fox.
Ryan Newman Back on Track to Race This Sunday, His First Since Fiery Crash at Daytona 500 | Sports